A man has revealed how borrowing £20 to set up a stall led to him owning half-a-million pounds' worth of property.
Scott Oldroyd, from Wakefield, used to be a solar panel fitter for one of Europe's biggest suppliers. However, he was left unemployed when he was reportedly unfairly dismissed.
In 2015, the 44-year-old then tried to set up his own gardening and landscape business, but in 2018 he found himself on a downward spiral when work dried up due to unseasonably wet weather.
As his mental health declined as a result, and money got tight, a friend encouraged him to start a market stall, lending him £20 to set it up – and the rest is history.
Scott was left with no money after he spent it all on expensive gardening equipment and a van.
He told the Yorkshire Post how his mental health took a hit when he was trying to get his gardening business up and running properly.
"We had a really bad autumn with the gardening business.There was just no work because the weather was so bad and I got myself into a bit of a depression. I sat there day in and day out playing a game on my phone, rather than getting up and doing something.
"Sometimes, if I wasn't feeling right in the morning, I would get back in bed because I didn't want to face anything," he reflected.
But then his friend suggested Scott use logs and twigs to make his own wooden Christmas decorations instead, and lent him £20 to set up a stall.
Though the decoration stall took a while to get off the ground, the ornaments he made from scrap wood were a hit during the festive season, and amassed Scott and his friend around £3,000.
Scott has since bought a building for his business, So Wood Ornamentals, on Westmoreland Street in Wakefield.
His art – made, where possible, from locally sourced materials – has now been sold all over the England and Wales.
In Somerset, he even sold a business multiple reindeers, totalling £1,000.
Reflecting on his success, Scott marvelled at how it all began at Wakefield Market in 2018 when he had to borrow £20 just 'to get the stall going'.
He continued: "It was over Christmas and we started selling reindeers and snowmen out of logs. I left the market almost a year to the day and moved into the shop in 2019.
"I took the risk, and had to borrow a lot of money, to purchase the building off my former landlord. The plan was to always buy the building but we expected it would take five or six years, not within 12 months of being in the shop."
Subsequently, as well as his wooden decorations business thriving, the 44-year-old now owns property worth roughly £500,000, as he not only owns the shop but the flats above it, too.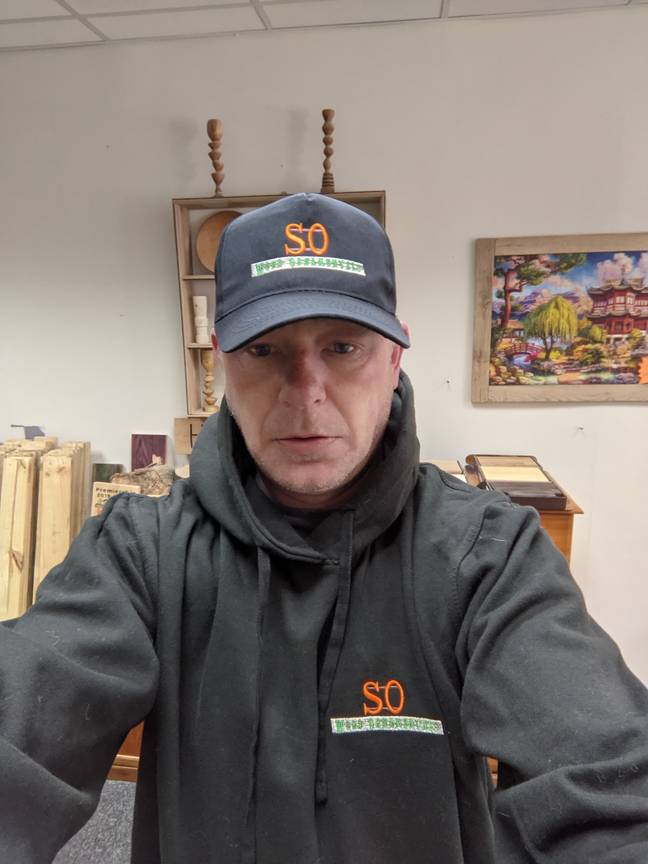 Scott admitted he was still 'really struggling' in the first three months of starting the market stall.
"People didn't know us or could trust us, but more and more people are now shopping with us and we're doing things that I never thought I would do," he said.
However, the 44-year-old reflected how he'd always 'vowed to never work in [a factory] again' and 'ind something her love instead.
"And I love doing this, it doesn't feel like coming to work, which takes a big weight off my shoulders," he said.
Scott said he was most influenced by his grandad, who he'd build bird boxes and tables with. "He would have loved to see what I'm doing now," he said.
What's more, Scott's son has shown interest in following in his father, and grandfather's, footsteps. "My son, Archie, is 12 and is already keen to take over when he leaves school," Scott said.
While So Wood Ornamentals was voted in the top three independent stores in Wakefield last year, Scott told LADbible he's now planning to 'completely change the look of the shop'.
The 44-year-old wants to be able to make bigger pieces such as 'large apoxy resin tables and bigger carvings'. He would also love to take on commissioned pieces.
He and his family are also now planning to move to a bigger house so his three children can have their own rooms.
If you're experiencing distressing thoughts and feelings, the Campaign Against Living Miserably (CALM) is there to support you. They're open from 5pm–midnight, 365 days a year. Their national number is 0800 58 58 58 and they also have a webchat service if you're not comfortable talking on the phone