'Britain's Most Tattooed Woman' Started Inking Face After Running Out Of Room Elsewhere On Body
A heavily tattooed mum has started inking her face after running out of space elsewhere on her body.
Becky Holt, 33, has completely covered her body with tattoos - with just the palms of her hands and soles of her feet that are blank.
The interior designer first became hooked on the look in 2001 when she was just 15 years old. Her body has since been used as a canvas for many tattoo artists, several of whom have offered their services for free.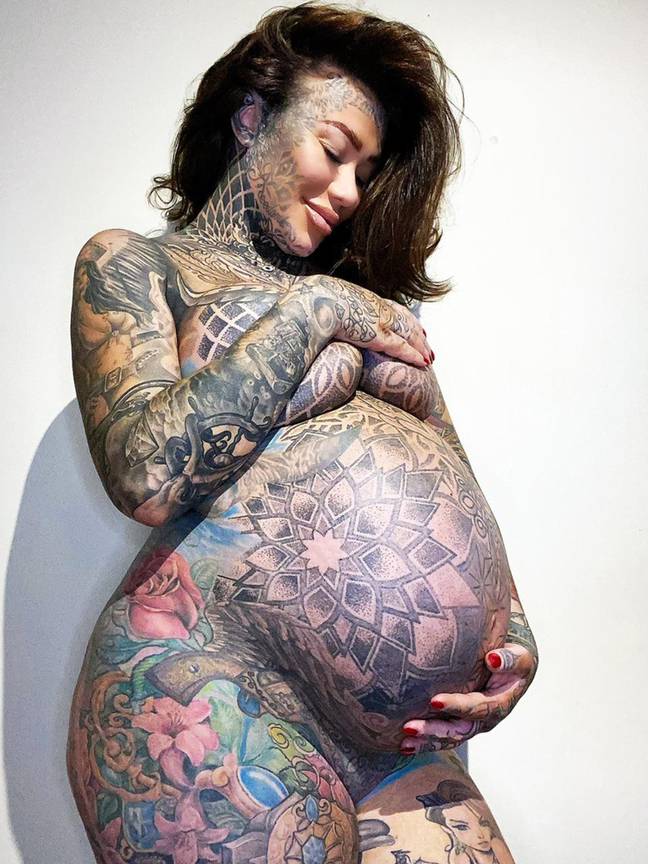 Becky, from Poynton, Cheshire, estimates her tattoos are worth a staggering £35,000 ($47,000).
Among the tattoos which range from a shark to geisha girls, her favourite tattoo is a David Bowie lyric on her forehead.
Appearing on This Morning today (19 January), host Phillip Schofield asked Becky how she came to get her first tattoo on her face.
She responded: "I think it was about five years ago that I did these ones on the side.
"I ran out of space and I just wanted more. I always said that I was never going to get tattoos on my hands, my throat, or my face, I always wanted them to be covered with clothes because they were for me, they weren't for anybody else.
"But then once I ran out of space and I got so addicted to it that I thought, 'Do you know what? I'm just going to go for it. I'm already so covered I may as well just put them anywhere.'"
And it's not just her face that boasts a fair amount of tattoos - Becky also has them on her armpits and genitals, and says it's impossible to count all her inkings.
Her tattoos include memorable experiences, parents' names and her favourite films.
She said: "I would say I have four tattoos which mean the most to me.
"I am a massive David Bowie fan so I had 'we can be heroes' on my face. I also have a leg dedicated to Labyrinth movie which is my favourite film.
"And I have 'mum and dad' tattooed on my arm along with a rose for my grandma who passed away.
"I will get my four-week-old daughter's name Aurora-Forrest tattooed as soon as they studios reopen too."

Despite being covered in tattoos, Becky 'hates' the pain she endures while getting inked.
She said: "It is painful but totally worth it. I have a cheetah on my ribs which took 11 hours. I remember crying my eyes out whilst getting it.
"I also have a clam in one of my armpit which fits the sea theme and is quite funny. I could feel every bit of skin ripping as it went through each line."
Becky's obsession began when she was a teenager. She regrettably had her ex-boyfriend's name tattooed which has since been covered.
She said: "When I was 15, I had my ex's name tattooed on my crotch. I definitely grew up to regret that one so I had it covered with skulls.
"I aspired to be covered from then on as I loved the women who were on the cover of Bizarre magazine.
"In 2014, I achieved my dream and featured on the cover of the magazine."
Featured Image Credit: Caters