Doctors have released pictures of lung scans after numbers of vape-related deaths continue to rise.
The Centers for Disease Control and Prevention said that at least 450 possible cases have been reported over 33 states in the US this year alone.
Minnesota, California, Oregon, Illinois, and Indiana have all seen deaths which have been put down to vaping.

Dr. Dana Meaney-Delman of the CDC said on a press call: "While the investigation is ongoing, CDC has advised that individuals consider not using e-cigarettes, because as of now, this is the primary means of preventing the severe lung disease."
Chance Ammirata, 18, shared this image on Twitter. He said that the collapse of his lung and black dots were down to vaping.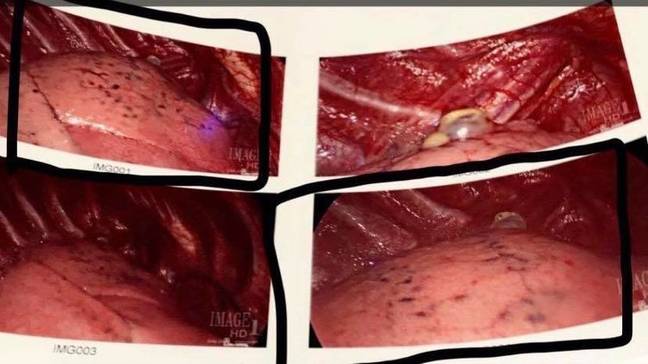 Although it's not been confirmed exactly what is causing these issues, they tend to pop up a few days or weeks after people use their vape - but sometimes they say they've been vaping for years before falling ill.
Junaid Khan, a heart and lung surgeon in Oakland, California, performed surgery on an 18-year-old man who had a blistered lung - this is where air leaks between the chest wall and lung. Sometimes the the blisters can pop up inside the lung.
Khan told Insider that he believes it may have been linked to a marijuana cartridge.
"It's on the verge of becoming a public-health crisis," he said. "When I'm seeing these people, it means they're needing surgery. That's pretty dramatic."
Symptoms of vaping-related lung illness include shortness of breath, fever, nausea, gastrointestinal issues, and weight loss.

Researchers have said in the New England Journal of Medicine that some of the conditions could potentially be related to oils in the the vaporised substance that carries nicotine or THC into the lungs.
Another 18-year-old, admitted to a hospital in New York, arrived complaining of chest pain, fever, and coughing and was found to have fluid on the lung.
Melody Pirzada, pediatric pulmonary chief at the hospital, told Insider: "This patient was actually in a lot of pain and needed to be connected to life support.
"With the great work of our ICU team, we were able to save this patient. But once you come to this point, the chance of dying can be as high as 70 percent."