University In Japan Conducts Graduation Ceremony Using Robots Amid Coronavirus Pandemic
Students across the globe are currently working from home, with schools and universities closing to help stop the spread of coronavirus.
But while lectures, modules and exams can invariably be adapted so students can take part remotely, you'd think graduation ceremonies would be off the table at present.
Well, think again, because one university in Japan has gone ahead with the climactic day using robots.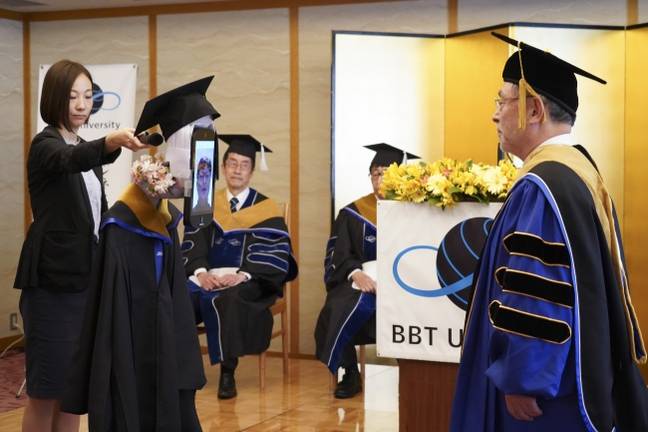 The Business Breakthrough University deployed 'newme' robots, which were controlled remotely by students at the ceremony, which was held at the Hotel Grand Palace in Chiyoda-ku, Tokyo, last Saturday.
The avatars have four wheels which operate as legs and tablets for faces, which the self-isolated graduates appeared on via video link.
In total, four students used the robots to collect their certificates from president of the university, Omae Kenichi, while the rest of the graduates took part in the ceremony via video call app Zoom.
One of the students who attended graduation in the form of a robot said: "When I enrolled, I never thought I would operate an avatar to attend the graduation ceremony."
Yeah, that seems a fair assumption.
The novel and innovative ceremony was the idea of Professor Shugo Yanaka, Dean of Global Business Administration at the university.

He said: "While new coronavirus measures are required, the introduction of avatars can realise a warm online graduation ceremony. We hope this initiative will be helpful to educational institutions who are having difficulty holding graduation ceremonies and entrance ceremonies."
While clearly a creative solution to a major problem, the BBT University isn't the first to allow students to graduate remotely.
In 2018, the University of Glasgow allowed three online distance-learners to attend their graduation ceremony via video link by sticking an iPad to a remote-controlled car adorned in a black gown.
According to the BBC, Principal Professor Sir Anton Muscatelli said: "I am delighted that technology has enabled our online distance learning graduands from different parts of the world who are unable to travel to Glasgow to take part in this live virtual graduation ceremony.
"These online students have had to balance work and family commitments whilst studying for their masters degrees part-time, and whilst graduating is a huge achievement for any student, it takes hard work, focus and commitment to successfully complete your studies whilst juggling work, family and life.

"Therefore, I am very pleased that we have been able to include our online distance learners in this graduation and we are proud to have them as alumni of the university."

Let's all bring some positivity, support and fun to anyone who might find themselves in isolation as a result of the coronavirus spread. Need some entertainment? Join Isolation Nation: https://www.facebook.com/groups/coronasupport/