Woman Captures Perfect 'Eye Of The Storm' Snap In Storm Ciara Aftermath
A woman has captured the perfect 'eye of the storm' just moments after Storm Ciara wreaked havoc across the whole of the UK, Ireland and beyond.
Photos show the natural cloud formation that gathered around a full moon, making it look like Mother Nature was casting a watchful eye over the earth once the storm had subsided.
Sarah Hodges, 48, from Bolton, noticed the moon shining bright on the evening on 11 February and, hoping to share the sight with her pals, took some snaps to share with her nearest and dearest.
Using nothing more than a Samsung S9 phone, Sarah took some snaps before posting them on Facebook - little did she realise they would go viral, gaining over 2.3K likes and 35K shares as users praised her for the awe-inspiring images.
One user wrote: "Wow, mother nature. 100 percent brilliant." Another said: "Nature's third eye."
A third simply wrote: "Stunning".
Sarah, who works full-time as a baker, said: "I took the pictures last Tuesday 11 Feb 2020, between 9.34 pm and 9.39 pm just from my bedroom window at my home address."
Explaining that she took the snaps just after the weather had calmed down, Sarah added: "The moon was shining through the kitchen window, so I went upstairs and just kept taking pictures...
"I am obsessed with the moon, sunset, sunrise and the sea. I just used my Samsung S9. I know I got lucky, people spend thousands on cameras to get the perfect shot.
"I feel overwhelmed and proud, as it's a once in a lifetime shot... which I do understand.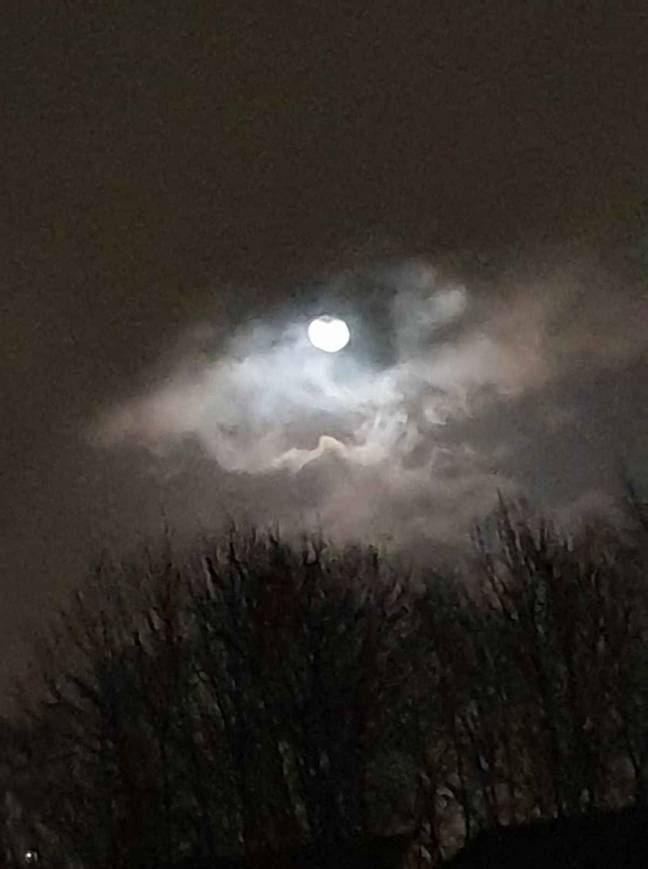 "It was only when scrolling back through the images that I noticed the moon centred around the clouds because in real-time the clouds were constantly moving.
"I took the pictures manually without any shutter settings, so I was incredibly lucky to get the shot."
So despite the carnage caused by the storm's 80mph winds and torrential rain, there was some beauty among the chaos.
The fossil footprint was found last week on 12 February over on the Isle of Wight, with Theo Vickers of Wight Coast Fossils saying: "All this weather is revealing traces of vanished worlds along our coastline.
"This is a really fascinating example of how events like Storm Ciara continue to expose traces of ancient environments around our geologically unique coastline, often in plain sight.
"Sandown Bay has revealed this beautiful 130 million year old dinosaur track yesterday, preserved in the brightly coloured clay."