Lad Gets Kieffer Moore Bum Tattoo After Betting He Wouldn't Score 20 Goals In Season
It was almost as if Cardiff City's Kieffer Moore knew one of his supporters had doubted him when he scored his 20th goal of the season.
That doubter would be David Conway who told his mates that the 28-year-old striker wouldn't bag 20 goals and went further by saying that if he did, he'd get Moore's name tattooed on his bum. David is clearly a man of his word.
The 37-year-old chef (with very little faith in his football team) spoke to his pals at the beginning of the season when Moore was signed.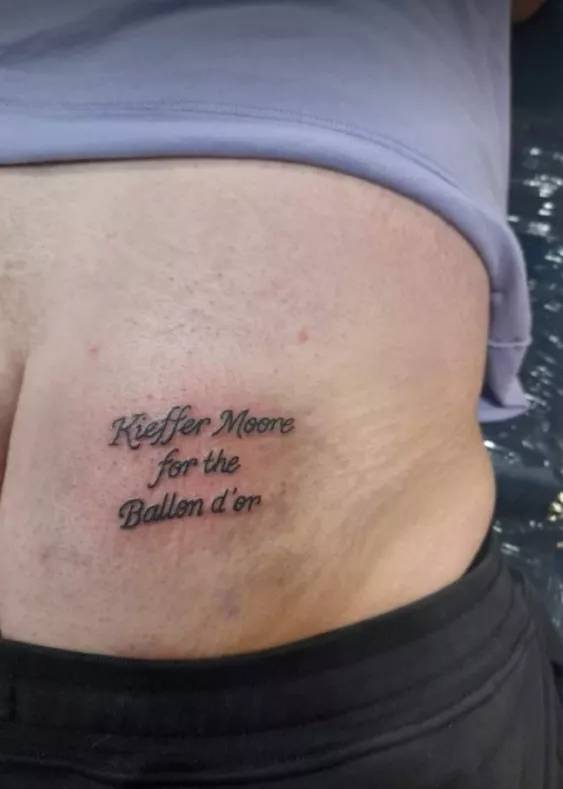 Fast forward a few months and on 11 June (Friday) David found himself stomach down having 'Kieffer Moore for the Ballon d'or'.

Hilariously, the dad-of-two was supposed to get the tattoo on Saturday (12 June) but was so worried he wouldn't be able to sit down at the pub to watch his beloved Wales play Switzerland in the Euros that he managed to get a slot the day before. Priorities, eh?
Speaking to LADbible, David, from Cardiff, said: "One of the boys said 'he's going to score 20 goals' and I was like 'there's no way he's gonna score 20 goals, if he scores 20 goals I will get his name tattooed on my bum'.
"The conversation was screenshotted and I completely forgot about it. Then every time he scored a goal, they were taking the mick. Then I think it was like three games to go when he scored 20 goals, all the banter was starting then really.
"He scored 20 goals, it's typical yeah I think he knew, that was it 'I've scored 20 goals, I don't need to score anymore'."
When Moore scored again on Saturday, David's mates told everyone in the pub about his new ink and he ended up getting it out for 'anyone that wanted to look at it'.
The tattoo was David's first and he said the experience was more uncomfortable than painful but the tattooist said he handled it like a boss.
He did however have to fork out more than what he was expecting after his mates said they'd all chip in for the ink... but only two have given him any money since having it meaning that David has paid £40 of the £65 price.
He said: "One of my friends gave me a tenner and one gave me £15. They all said they were going to chip in but they never did. I wasn't going to ask for it though."
Speaking about where his doubt came from in the first place, David said: "It's been a long time since one of our players scored 20 goals, it's been a while. I think it's been like 10 years. We've been looking for a striker like that for years so to get one, I just thought there's no way it'll happen.
"I was happy in a way..."
Well, that's bittersweet isn't it?