Woman Signed Off Work After Dog Died Says It Was 'Like Losing Child'
A woman who was signed off from work for two weeks after losing her dog has urged others to be more compassionate towards bereaved pet owners, likening her own experience to losing a child.
Wendy O'Grady, a 47-year-old retail store supervisor from Surrey, got her puppy Zac in 2009. Her husband Mike surprised her with the nine-month old chocolate Labrador after she had suffered 10 miscarriages in 15 years.
Tragically, Zac was diagnosed with cancer in July 2021, meaning the couple had to make the heartbreaking decision to have him put down.
Wendy explained the huge impact Zac's death had taken on the pair, saying: "Losing Zac was just like losing a child.
"I can't even explain the grief. We were inconsolable. After 12 years, to not see him come to the door when I came home was heart-breaking."
After the couple struggled to conceive, Wendy said Zac was an instant source of joy in such a difficult period.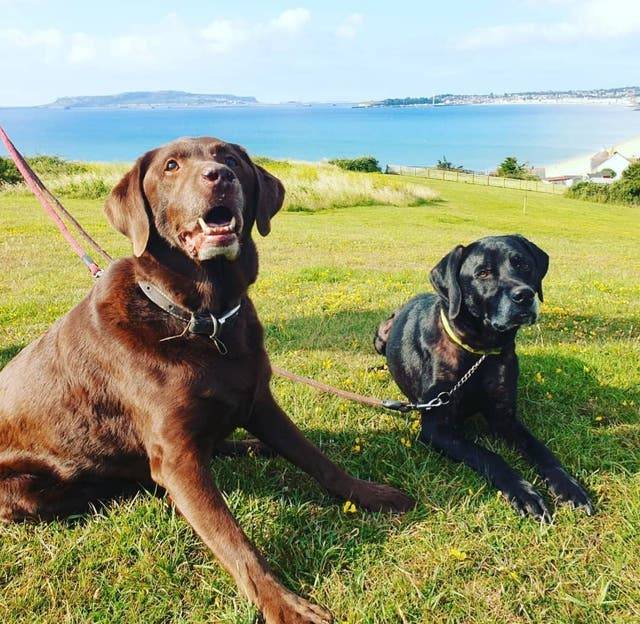 "It was a really hard time," she said. "I just couldn't conceive and we were having a rough time.

"So, when Mike bought Zac home, he completely lit up our lives. It was instant connection.
"The first moment I saw [Zac], as we sat in the back seat of the car, I fell in love with his sweet nature."
Zac even became a popular figure at Egham Town Football Club, where Mike would take him along to watch every game.
In 2012, Wendy and Mike welcomed their second dog Purdy, a black Labrador and pointer cross, into the family.
Tragedy struck in July, though - with Zac was struggling to walk properly, a vet discovered he had cancer in his spine.
After medication failed to help, the difficult decision to put Zac down was made, leading to understandable grief.
Things were made worse for Wendy when a relative also became ill in that same week. The strain caused her autoimmune condition, Sjogren's syndrome - which affects parts of the body that produce fluids - to flare up.
Wendy was off work for a fortnight, and said she found it difficult to seek comfort from others.
According to a study by pet wellness experts, Itch who are campaigning for all UK companies to provide compassionate leave for pet owners, over half of UK pet owners liken losing their pet to the loss of a family member.

"I think it would have been helpful if they had addressed what Mike and I were going through," she reflected.
Amongst the sadness, though, the couple did receive a welcome surprise on 21 August, when a family member introduced them to their new puppy Zebedee.
"He's only nine weeks old. My mother-in-law got him for us as an anniversary gift and we picked him up a few days ago." Wendy explained.
"He's really amazing, he boings and bounces everywhere.

"He's a new addition to our family, but we are still grieving for Zac. I get home from work and still expect him to run out and greet me."
Wendy again urged people to talk more openly about losing a pet: "More people have spoken to me about Zebedee than about Zac. I think they think our puppy is some kind of replacement, but that could never be the case.
"I think people should be more open and just talk about it. We lost a member of our family and I think it should be addressed."