Devastated by the lack of sports in everyone's lives right now, a golf fan in Lancashire decided to turn misery into magic by creating his very own 'Mini Masters' course in his back garden.
Sam Williams, 31, found he wasn't just missing playing sport, but also being able to catch live events on TV, with many major highlights of the year's sporting calendar cancelled due to coronavirus.
But not to be disheartened, Sam decided to channel his frustration into sheer creative flair, having dragged the lawnmower out of hibernation to craft his very own mini golf course in the garden he shares with fiancée Corinna Atkinson, 27.
Sam, a teacher, told LADbible: "I had the idea in my head for a week or so when lockdown began, but was not sure if my fiancée would approve of the idea. However, after designing the course layout on my iPad she approved and gave me the green light to go ahead!
"It took a full day to produce the course, mowing the garden a few times and cutting out the holes with garden tools. Flags were also created and added to the course. It still needs a mow every now and again and I feel like I have a part-time job as a greenkeeper!
Sam continued: "I am a huge sports fan, watch, and play anything I can have a go at. Normally around this time of year, I get my golf clubs out and aim to improve my game and this usually coincides with the first major golf tournament of the year, The Masters.
"Therefore, with being in lockdown, what better way to practise my game and honour the best golf tournament in the world by recreating a mini golf course in my back garden?
"As we are on lockdown, I have had plenty of time on my hands to make it work!"

Sam said he's played the course every day 'at least 10 times', though he's only managed to get around it under par once.
He said: "The roll of the ball doesn't compare to the lush greens at the Augusta National course, where the Masters is held - and the unpredictable bounce from the odd weed in my back garden can definitely be tricky to negotiate!"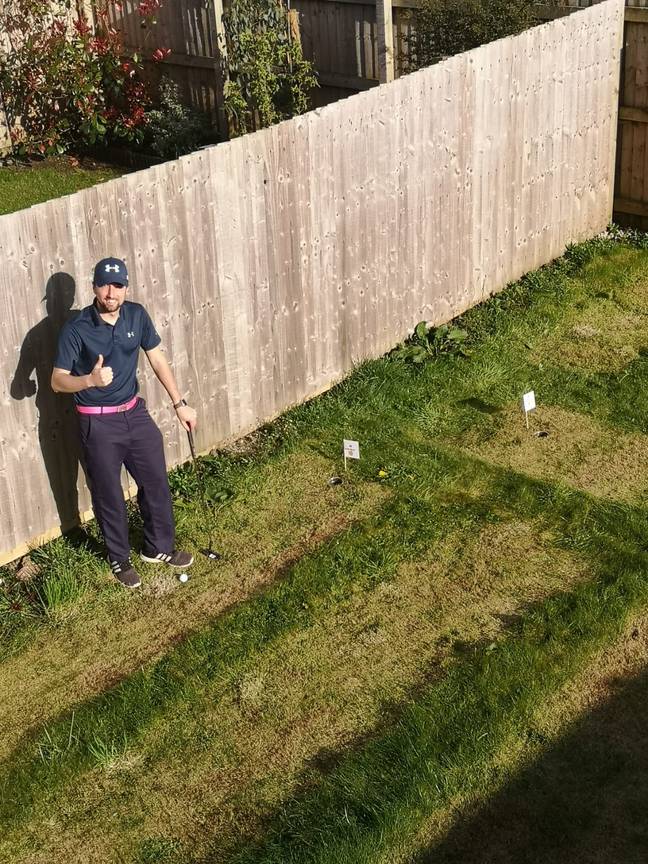 "Corinna has joined me a few times and the course definitely brings out her competitive side! She even scored a hole in one on the first hole of our first 'official' round of competition with me but sadly she could not hold on for the win."
Sam said he and fellow teacher Corinna would also be playing another game this weekend to honour The Masters, which should have taken place this week.
While they've both been missing their pupils and staff at school, along with the freedom to 'go out and make the most of the weather with family and friends', Sam admitted not being able to watch live sport on TV has also been particularly missed.
But aside from golf, Sam and Corinna have found other equally creative ways to keep themselves entertained during lockdown.
Sam said: "We have discovered TikTok and been making videos to bring a smile to friends and family's faces during the lockdown.
"We have also been creative and started our own little card shop (@featheranddotdesigns) using watercolours and hand calligraphy, donating some of our profits to support the work the NHS have been doing on the frontline too."
He added: "It's frustrating not being able to share the course with friends and family so we're looking forward to the lockdown being over and inviting them over to sample the course.
"We will probably host a huge tournament and see who can win the first Mini Masters green jacket!"
Let's all bring some positivity, support and fun to anyone who might find themselves in isolation as a result of the coronavirus spread. Need some entertainment? Join Isolation Nation: https://www.facebook.com/groups/coronasupport/