College Hunks Removal Company Moves More Than 100 Domestic Abuse Victims For Free
A removals company has helped more than 100 domestic abuse victims move out of violent homes, free of charge.
The coronavirus pandemic and lockdown measures have made people in abusive relationships more vulnerable than ever, so College HUNKS Hauling Junk & Moving decided to do its bit to help.
The company launched the Free Moves for Survivors of Domestic Violence programme to make it as easy as possible for people to flee from a dangerous home.
All across the US and Canada, the guys have been moving victims into shelters without any charge - and they don't plan on stopping any time soon.
The company's co-founder, Nick Friedman, told LADbible: "Access to meaningful help for domestic violence survivors will not end when the pandemic ends. We'll make sure of that.
"Precariously unsafe living situations existed before global health concerns dominated our awareness and will continue long after those concerns have lessened.
"We have taken the actions necessary and put plans in place to prepare our company to integrate domestic violence assistance as a long-term fixture of our brand."
To request the free move, victims must contact a local certified domestic violence-prevention shelter, which will then approve and co-ordinate the move with the company.

The company was set up by college pals Nick and Omar Soliman, who started out with a 'beat-up cargo van' and had the temerity to name themselves College HUNKS [Honest Uniformed Nice Knowledgeable Service].
Over the 15 years since then, the company has grown massively, and now has 131 franchise locations across the US and Canada.
Its selfless work throughout the pandemic has offered a much-needed lifeline to domestic abuse victims at a time of great peril.
In April, the UK's largest domestic abuse charity, Refuge, reported a 700 percent increase in calls to its helpline in just one day - and the situation is no different across the pond.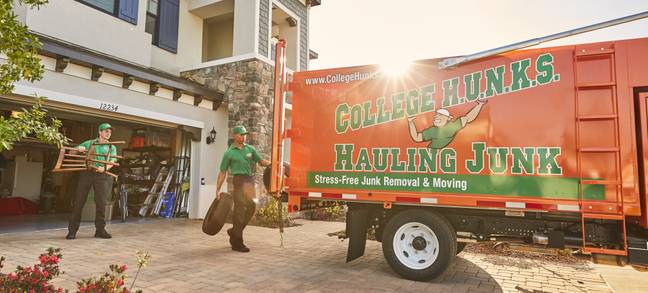 Nick said: "Domestic violence affects millions, and the numbers of survivors essentially trapped in living situations with their abusers during this time must be staggering.
"These are individuals who have had no choice but to abandon physical safety measures, like a safety plan, that could have been implemented had the pandemic not transpired. And while the pandemic has served to complicate the challenges and concerns around domestic violence, it certainly hasn't been the cause of them.
"Abusers simply leverage its resulting vulnerabilities, like constant physical proximity, overreaching control of the household finances and threats to the safety of children now home from school, compounded by the crippling emotional and psychological damage continually inflicted on survivors."
Hats off to the HUNKS for helping those in need.
You can call Refuge's 24-hour domestic abuse hotline on 0808 2000 247.