Christmas market is selling a hot dog for £200 and you have to wait 40 minutes for it to be made
People often splurge during the festive season, however some keen foodies have gone one step further by buying a fancy hotdog which costs over £200. See the hotdog in all its glory below:
To be fair, it does look delicious.
The pricey snack is sold at the Zurich-based catering company Happy Souls at Rudolf's Christmas Market in Lucerne
It's marketed as the world's most expensive hot dog and it could be in your belly if you're willing to part with 250 Swiss Francs which converts to £219.21.
The hotdog is made with some expensive ingredients, including a Kobe beef sausage, white alba truffles, Cristal Roederer champagne foam, a gilded peppercorn and chocolate crumble.
The most expensive ingredient is likely the white alba truffle, with an average price of €4,940 (£4,269.10) this month according to Tartufo.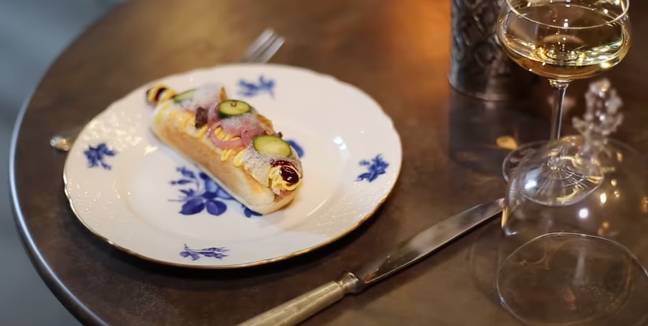 While a single bottle of Cristal Roederer can cost between £200-£320.
Happy Souls founder Jasmin Feierabend spoke to CNN Money Switzerland in 2018 about how the ingredients are sourced.
After recalling a disagreement with a butcher after she told him she wanted to buy Kobe beef - the most expensive meat in the world - to make a sausage, she also shared that she's had a call from Cristal Roederer 'asking us to please stop using their exclusive champagne'.
But every one ingredient has a meaning behind its inclusion, especially the tiny - but expensive - peppercorn.
"The peppercorn for us has a very deep meaning because on the hot dog you can't really taste the pepper but for us it means to go the extra mile."
Customers are also treated to a Feierabend's singing while they wait for their hotdog.
"This hotdog is real dramatic."
In 2017 they sold 30 luxury hotdogs. Customers have included a 'beauty doctor' who flew to Switzerland and contacted Happy Souls to try the hotdog.
Feierabend wanted to give the humble hotdog a fancy makeover and it's all for a good cause. The profit goes to charity and helps single parents in Switzerland.
In related Christmas market news, market traders in the UK have defended hiking prices while explaining why Christmas markets cost so much.
The MEN spoke to Bram Dreijer, whose father runs the Dutch Mini Pancakes stall you can visit at the markets, and he explained that they have 'no choice but to raise the price.
"I think everybody has noticed that a lot of things have increased during the last year," he said. "It's no different for us.
"We buy some stock here in the UK and bring some from Holland, now with Brexit it has become more expensive in both countries.
"And because of Brexit there has been a lot of extra costs for us to bring the stuff over, like the Christmas sheds, people, stock, visas and the like."