​Student Makes Boyfriend Sign Relationship Contract After Buying Him Call Of Duty
Ashley Davison isn't messing around in making sure she is her boyfriend's main focus despite buying him a copy of Call of Duty.

Nope, Ashley bought her other half, Blake Perry, the console game but it came with a full contract to ensure he agreed to a list of terms which would ensure he wasn't taking his eye off his relationship.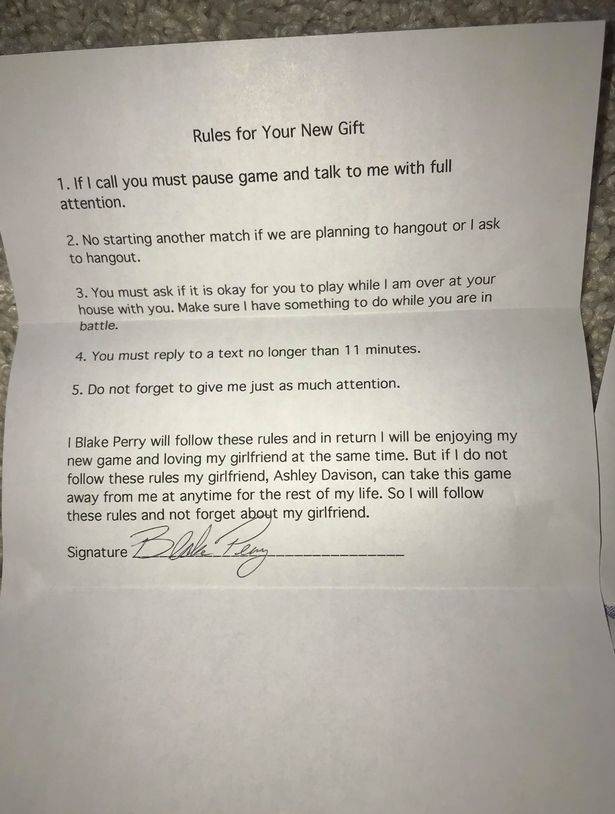 Here's Ashley's contract for 'Rules for Your New Gift'.
1. If I call you must pause the game and talk to me with full attention
2. No starting another match if we are planning to hang out or I ask to hang out
3. You must ask if it is okay for you to play while I am over at your house with you. Make sure I have something to do while you are in battle.
4. You must reply to a text no longer than 11 minutes
5. Do not forget to give me just as much attention.
Is it just us or is 11 minutes very specific? And what if Blake had a genuine reason for not responding to Ashley in that time period regardless of whether he is playing the game?
We're not the only ones with a few questions, as University of Oklahoma student (hope she is studying law) Ashley's contract has taken social media by storm after she posted it on Twitter.
Nah bro... I've been through this before, she wants you to think it's a joke but in reality if you don't follow those rules she will go postal on you. Just beware

- Daniel Rodrigues (@King_Rodrigues) December 27, 2017
Trying to figure out why I haven't done this bc this something I would do. This is actually the best thing ever !

- NatAttack (@Natattaaackkk) December 29, 2017
However, Ashley and Blake have both been pointing out that the list is just a bit of laugh in the wake of the reaction since Christmas Eve.
Fair play in that case. It's all in the name of banter but we wouldn't take any risks if we were you, Blake.