People Are Still Going To UK Beaches Despite Lockdown As Bank Holiday Begins
Brits are ignoring the government imposed coronavirus lockdown rules and are instead opting to visit the beach as the bank holiday gets underway.
Good Friday's warm weather is proving to be a little too tempting when it comes to staying indoors because people have been pictured enjoying the sunshine.
As we're experiencing the third day in a row of nice weather - with 24.6°C recorded at Bude, Cornwall - members of the public have been leaving their lockdown confinements to get a taste of the fresh air. And not from their back gardens.
Some people have been out exercising, which is currently allowed under the government's guidance, but it's been questioned whether they've been keeping the required two metre distance.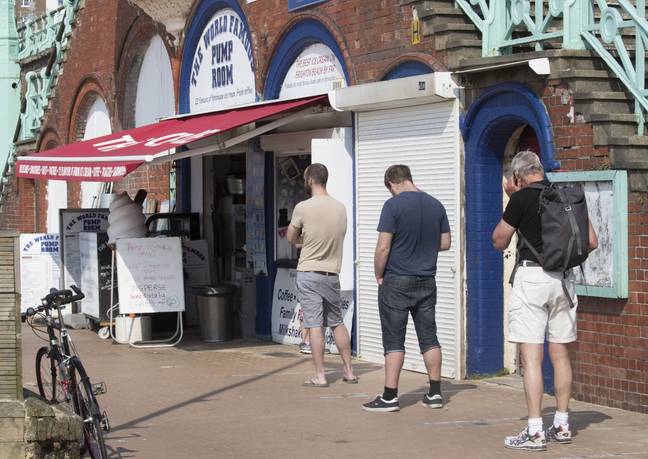 According to The Sun, people who drive to the beach or have a picnic could be fined up to £960 ($1,200) or even be arrested, and while it's deemed acceptable to visit the beach to exercise, anyone travelling further than their local area or visiting to congregate in groups are breaking the law.
Now for the third day in a row, and not untypical for April, it's the warmest day of the year, with 24.6 °C recorded at Bude.

:satellite_orbital:️ Here's the view from space a short time ago:satellite_orbital:️

Despite the sunshine, please #StayHomeSaveLives pic.twitter.com/HH1NyQcvVk
- Met Office (@metoffice) April 10, 2020
Yesterday, the UK government said that it is 'too early' to think about ending the lockdown with Foreign Secretary, Dominic Raab explaining: "We're not done yet. We must keep going."
He then added: "While the early signs suggest they're [social distancing measures] having the impact, it's too early to say that conclusively."
Taking the opportunity to encourage people to stay inside this weekend despite temptations, Mr Raab went on: "People need to think long and hard about what might happen to people on the front line of the NHS if they are considering going out this weekend.
"I know these restrictions take their toll day in day out on people's livelihoods, on people's quality of life, on people's mental health and I appreciate that it's often the little things that hurt the most.
"With the Easter bank holiday coming up, I would usually spend it with my two boys, seven and five years old, with their grandparents doing an Easter egg hunt and I know there's going to be lots of people who would normally be planning a family get together or just going out in the sunshine with friends and loves ones.
"Unfortunately right now we just can't do those sorts of things, and I'm really sorry about that. But just take a moment to think of the progress we've already made. It's been almost three weeks and we're starting to see the impact of the sacrifices we've all made."
Let's all bring some positivity, support and fun to anyone who might find themselves in isolation as a result of the coronavirus spread. Need some entertainment? Join Isolation Nation: https://www.facebook.com/groups/coronasupport/